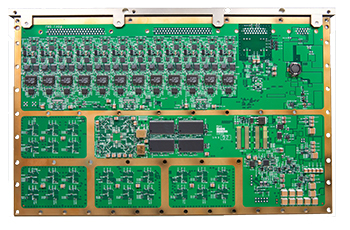 Nuvation provides a full range of embedded software services from simple bare metal solutions to sophisticated distributed systems. We offer embedded software development as a standalone service, or integrated with our custom hardware and FPGA design services. 
Our software development methodologies have been perfected over 20 years and 1000+ electronic design projects. We are well-versed in modern software technologies, tool sets, and best practices such as agile methodology, continuous integration, comprehensive testing, and strict branching workflow. Our embedded software services include:
Design documentation – specifying the work to be done before implementation, during which we engage in:

Prototyping as needed to test feasibility
Researching off-the-shelf tools and technologies to reduce project costs and accelerate schedules

Design implementation – primary coding, code re-use, vendor code library integration, peer reviews
Design validation – unit testing, system testing, integration
embedded Software Expertise
Embedded Devices
Bare metal and embedded OS, e.g. Linux, Android, Free RTOS, MQX RTOS, QNX, OpenEmbedded
Processor Families, e.g. ST Micro STM32, Texas Instruments MSP430, Atmel AT-SAM, NXP i.MX, Microchip PIC, Nordic nRF5x, Dialog DA146xx
Custom bootloaders and board support packages – drivers and API
Communication Protocols
Network protocols, e.g. Modbus TCP/RTU, UDP, TCP/IP, DHCP, HTTP, SDP, RTP, RTSP, RTCP
Wireless protocols, e.g. Wi-Fi, Bluetooth wireless technology, Bluetooth Low Energy (BLE), SimpliciTI, ZigBee
Communication buses, e.g. UART, SPI, I2C, CAN, MODBUS, PCIe, USB UVC
High Performance
Real-time execution over multiple processors
Multi-threaded / multi-processor systems
Low-latency designs for video (including streaming with H.264) and other quick-response applications
High Reliability
Distributed monitoring and control firmware for large-scale distributed systems
Critical applications in the medical, defense, and aerospace industries
Low Power
Battery-powered, e.g. wearable devices
Energy harvesting
Dynamic power scaling
System Integration
Human Machine Interface (HMI)

LCD / AMOLED displays
Resistive / capacitive / touchscreen
Wireless remote
Buttons / keypads

Sensor Integration with optional feature extraction

Audio
Video
Analog / Signal
Digital Signal Processing
Inertial Measurement Unit (IMU)

Bluetooth LE Profiles and Services (standard and / or custom)
State Machines (FSM)
Resource Management (e.g. power, peripherals, memory, DMA, etc.)
Battery Management Systems (embedded)
Clock and Power Management
Firmware Update Service (Over-the-air / Over-the-wire)
Non-volatile Persistent Storage solutions

Wear leveling
Standard or custom file system

Operator interfaces (OI)
User interfaces (UI): emWin, LittlevGL/LVGL, GTK
Mobile and Web (Full Stack) Services
Native app development for iOS and Android
Cross-platform app development using Cordova
App deployment to App Store for iOS and Android
Architecture and design of commercial and industrial systems
Distributed computing for Internet of Things devices and wireless sensing applications
Experience developing and using custom server architecture
Development of REST web services and web servers with Java, Ruby, and Node.js
Database development – small-scale as well as cloud-based
Cloud computing solutions that are highly scalable, optimized for performance, reliable and secure
3rd party API integration
Testing with jUnit, Selenium, Appium, and Robot
Manufacturing Test
Design of testing process
Coding of test fixture software
Coding of cooperating test software within Device Under Test (DUT)
Development Tools
GNU development tools (Make/GCC/GDB/G++), Code Composer Studio, MPLAB, Microsoft Visual Studio, Keil uVision, Eclipse, IAR Embedded Workbench, Atmel Studio, Code Warrior, LabVIEW, MATLAB/Simulink, BitBake (e.g. OpenEmbedded, Yocto), buildroot (e.g. OpenWrt, DD-WRT), Java SDK.
Technologies
Nuvation uses the technologies that are best suited to your needs. We have experience with Obejctive C/C++, Python, Swift, Node.js, JavaScript (Angular, DoJo), HTML5 and PHP, like Amazon Web Services, Hibernate, Spring, and more.
Project Examples
Currently Viewing:
All Projects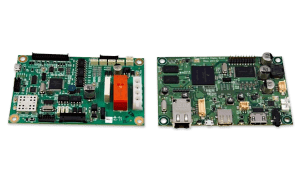 Smart Water Fountains
Nuvation Engineering developed a suite of networking hardware to add intelligence and communication...
VIEW

>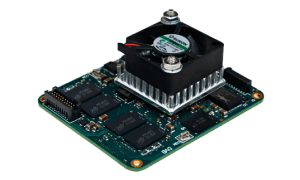 Video Capture and Display
Nuvation Engineering completed a custom robotic video design for a client in the video design industry...
VIEW

>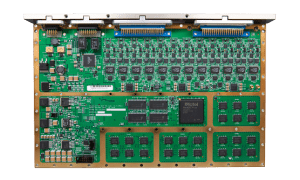 Aerospace Data Acquisition System
Nuvation Engineering designed and manufactured a 24-channel data acquisition system for a client in the...
VIEW

>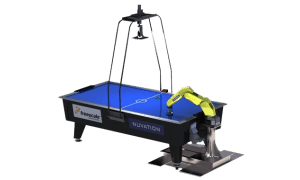 Air Hockey Robot
Freescale selected Nuvation Engineering to create a one-of-a-kind Air Hockey Robot to showcase at the...
VIEW

>