Nuvation Engineering's combat robots Texas Heat and Son of Ziggy are gearing up for RoboGames in San Mateo, CA this weekend. The event, named one to the list of Best Ten North American Geek Fests by Wired Magazine, is the world's largest open robot competition. The Nuvation Garage team has been entering combat bots in the competition for over a decade. Explains CEO Michael Worry, "We're engineers, we love what we do. We engineer by day when we're paid, and we engineer after hours, just for fun. One of our hobbies happens to be combat robotics."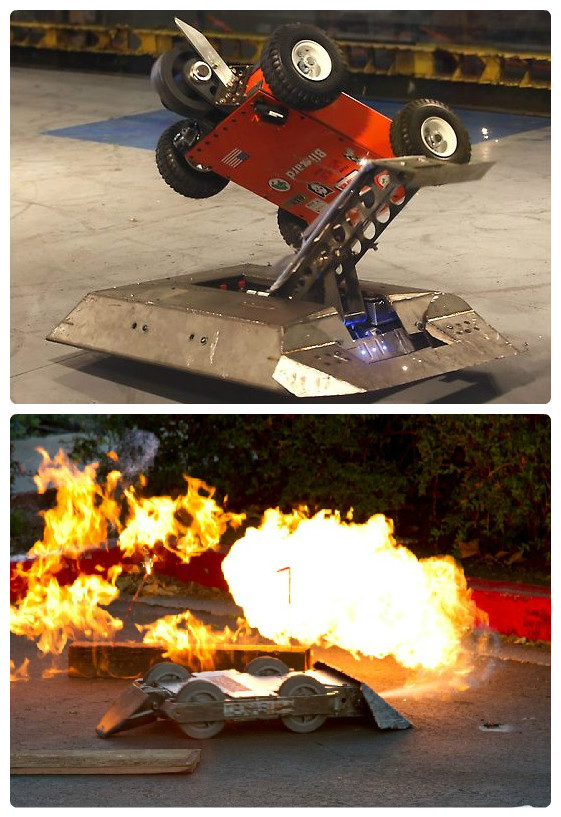 Texas Heat, named for its Texas Instruments MSP430 Flame Controller, will be competing in the lightweight (under 60lbs) combat category. Texas Heat drives its titanium wedge under enemy robots, shoves them into the wall, and engulfs them with flames.
Texas Heat Highlights
Son of Ziggy is Nuvation Engineering's heavyweight, a 220lb gladiator with a pneumatic flipper strong enough to throw a stove (or its competitors) eight feet in the air. The flipper is powered by a 4500 psi carbon fiber cylinder from a firefighter's self-contained breathing apparatus, and fires to full length in 70ms.
Son of Ziggy Makes Quick Work of an Opponent
RoboGames will be held at the San Mateo Fairgrounds from noon-9pm Friday, and noon-7pm Saturday Sunday. Tickets are available on the RoboGames website. Hope to see you there!