Credit card theft has been drastically increasing throughout the years and is expected to be at an all-time high by the end of 2019.
A client in the financial services industry chose Nuvation Engineering to develop an identity verification device for payment processing. The client wanted to provide consumers with a technologically advanced and safe way to make payments. Nuvation Engineering created a highly integrated payment terminal that uses fingerprints as identification and payment confirmation. The product pairs with a user's phone application via Bluetooth Low Energy (BLE). The device also includes an ultra-low power ePaper display.
The client chose to work with Nuvation Engineering due to our electronic and embedded software skillset, depth of expertise, and quality of project management. Nuvation conducted the electronic design, firmware design, and collaborated with the client for the mechanical design.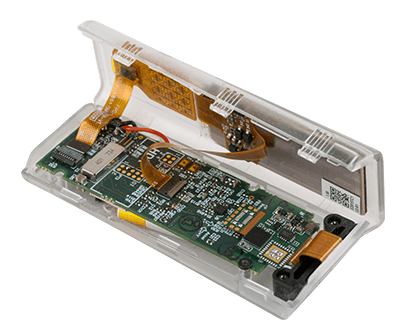 Design Features:
Nuvation Engineering managed the project, conducted electronic design, firmware design and collaborated on mechanical design
For consumer high-volume production
High-density interconnect (HDI) PCB
Near-field communication (NFC)
Fingerprint reading
ePaper display
Ultra-low power
Extremely small form factor
Integration with Bluetooth and phone application
Haptic feedback