A Nuvation Engineering client wanted to build a low-cost medical ventilator for use in developing countries where hospitals cannot afford to purchase many mechanical ventilators.
Nuvation Engineering worked with the client to design and build a ventilator that cost less than half the price of most mechanical ventilators on the market. We were able to achieve this by using lower cost components and a unique architecture.
A ventilator at this price point could help reduce the shortage of ventilators in hospitals and enable developing countries to provide patients with better care.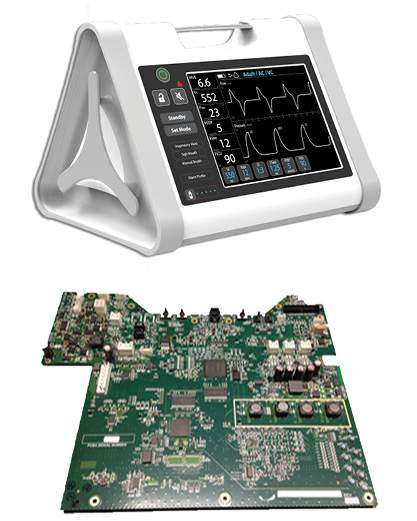 Design Features:
System-level architecture for life-critical medical design

Electro-mechanical design according to IEC60601-1 (

Medical electrical equipment - Part 1: General requirements for basic safety and essential performance

)

Software design processes according to IEC62304 (

Medical device software - Software life cycle processes

)

IPC Class 3 and IEC60601-1 compliant

Mixed-signal PCB design: 10 layers, 0.063", 370HR

Altera FPGA for real-time breath control, NXP dual-core ARM processor for GUI, Bluetooth LE (BLE) for data transfer

Co-development of custom "smart" lithium-ion battery pack, employing multiple redundant safety features

Co-development of custom membrane panel and custom mass air flow sensor

Pneumatic systems design including design of novel breath control algorithms