A client in the consumer electronics industry partnered with Nuvation Engineering to develop radio frequency (RF) leakage detection devices used by cable TV service personnel.
When RF cables are broken or damaged, electromagnetic energy may escape from the transmission line into the environment. This energy is known as "RF leakage." Nuvation Engineering helped design two different types of RF leakage detection devices – a handheld device and a vehicle-based device.
The handheld leakage detection device is designed to assist technicians in quickly pinpointing cable leakage locations in order to repair them.
The vehicle-based RF leakage detection device is a sensitive RF leakage detector that can be installed in a vehicle, and is able to scan and record cable leakage information while the vehicle drives around a neighborhood. The product combines RF leakage measurements with geo-tagging data from a paired GPS unit. This enables the product to collect and record the location and RF signature of each leakage instance.
Nuvation Engineering worked with the client on the schematic development of the products, and was responsible for the highly sensitive RF PCB layout. The design incorporated multiple DC-to-DC converters, which generate high EMI (noise) that could interfere with the product's ability to detect weak radio frequency signals. To deal with this noise, we employed multiple techniques including spatial separation, ground plane moating, RF shield cans and ferrite beads to isolate the noise from reaching the front end of the device. The design also included multiple stages of SAW bandpass filters in order to provide high selectivity to the frequencies of interest. The SAW filters were cascaded with multiple MMIC low-noise amplifier (LNA) stages, used to amplify the very weak input signals from a dipole antenna.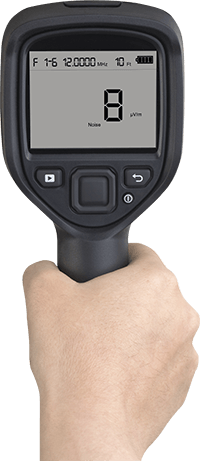 Design features:
Handheld RF Leakage Detection
Compact, battery operated and portable handheld device
Achieved very low RF receiver sensitivity of -105 dBmV (5.6 nVrms)
Multiple stages of SAW filters cascaded with MMIC LNAs to provide high gain and sensitivity
RF schematic development
Low-noise RF PCB layout – first time right
Vehicle-Based RF Leakage Detection
Multiple stages of SAW filters cascaded with MMIC LNAs to provide high gain and selectivity
Integrates RF leakage measurements with geo-tagging data from a paired GPS unit
RF schematic development
Low-noise RF PCB layout – first time right