A Nuvation Engineering client in the tele-health industry was seeking assistance upgrading a health monitoring device used by patients who are managing their care at home. The device collects data from various personal health monitoring devices (PHM) and uploads it to a central monitoring station manned by live agents. The client was primarily a health monitoring services provider and developing electronic devices was not their core business.
They needed the assistance of an engineering firm that could:
Work with an RFP that was based on functional requirements and not complex technical specifications
Provide up-front visibility of the entire project effort and costs from initial design to market-ready product
Possess the diverse skill sets needed to execute both software and hardware development
Manage all the complexities of medical and electronic device product testing and regulatory certification
Manage the project until ready-to-ship products were rolling off the production line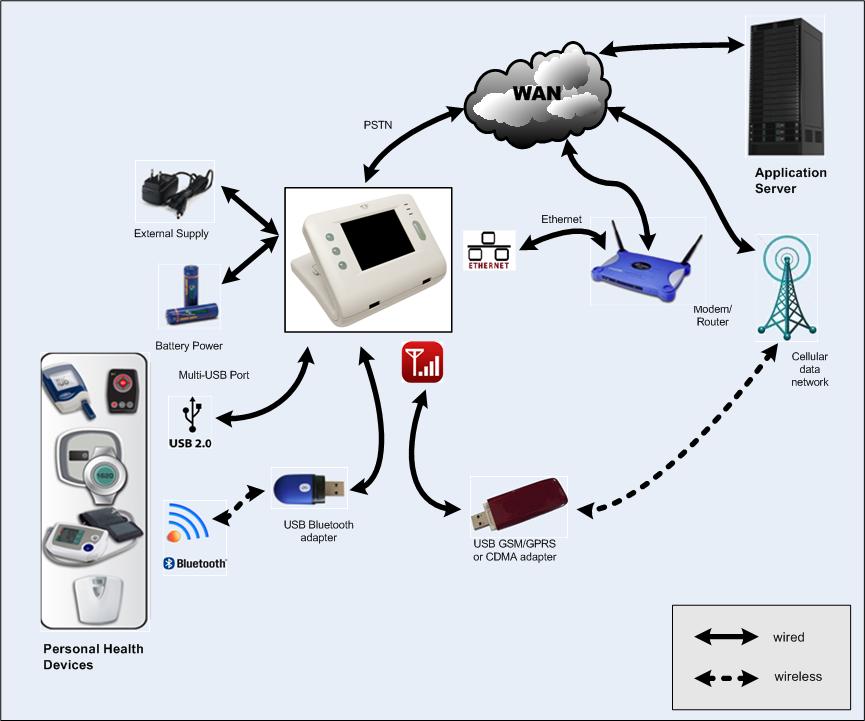 The new device would collect health information via USB and Bluetooth from multiple PHM devices simultaneously and upload this data to the cloud. Home-based patients' heath would be monitored at a central monitoring station by live agents who would send help in an emergency.
The current device was several years old and some components had reached parts obsolescence. The device could also only support a single PHM device and needed to support multiple devices simultaneously. Support also needed to be added for newer communication technologies since the device was currently limited to plain old telephone service (POTS) as the only mode of data transfer to the cloud.
The new device needed to:
Collect health information via USB and Bluetooth from multiple PHM devices simultaneously (e.g. blood-glucose monitors, blood pressure monitors, pulse oximeters, etc.)
Upload PHM device data to the cloud via Internet, cellular networks, and home phone line
Be designed to meet North American and European EMC and Electrical Safety standards
Use components with lifecycles that exceeded the planned product life
Be manufactured at a price point that was well within the average home-care patient's budget
A variety of innovative approaches were required to design a product compliant with all applicable medical device, telecommunications and radio interference standards. Part of the challenge involved accommodating an innovative industrial design that required connecting three boards with flat-flex cables within a plastic enclosure. This increased the risk of radiated, conducted, and electrostatic discharge (ESD) because of the possibility of high-frequency noise radiation emanating from the flat flex-cables when devices were connected to the USB ports.
To learn more about the health monitoring device we developed, read the case study.