Accelerating New Product Introduction
At Nuvation Engineering, "IDM" stands for our Integrated Design to Manufacturing Service. It captures the deeply integrated and concurrent Manufacturing Engineering, Manufacturing New Product Introduction, Production Ramp, and Production Management Services that Nuvation provides. Our IDM services bridge Design to Manufacturing operations, improve product quality, and accelerate project schedules.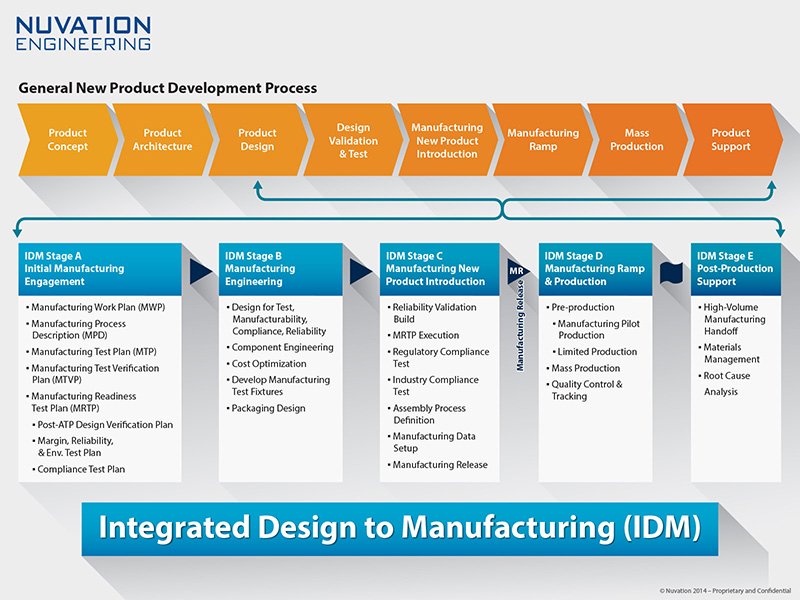 How It Works
Stage A: Initial Manufacturing Engagement (IME)
During this phase, the manufacturing work plan, the manufacturing readiness test plan and the manufacturing test verification plan are generated and documented. The planning activities often include: overall manufacturing strategy, detailed manufacturing work planning, and identification of supply chain and manufacturing vendor requirements appropriate to the market, complexity, and quantity targets of the design.  It also includes the refinements of the IDM estimates and schedule, as well as a refined estimate of the production unit costs at various production quantities and schedules.
Stage B: Manufacturing Engineering
In parallel and with close interaction with the design activity, more detailed analysis of the design will be performed to ensure that it will be manufacturable and sustainable. At the same time, Manufacturing Test development will begin, ensuring that the manufactured design can be efficiently and comprehensively tested in both the Ramp and Volume Production stages. Quality design documentation is developed in both the Initial Design Engagement and the Initial Manufacturing Engagement phases, enable the parallelization of these efforts in the project schedule.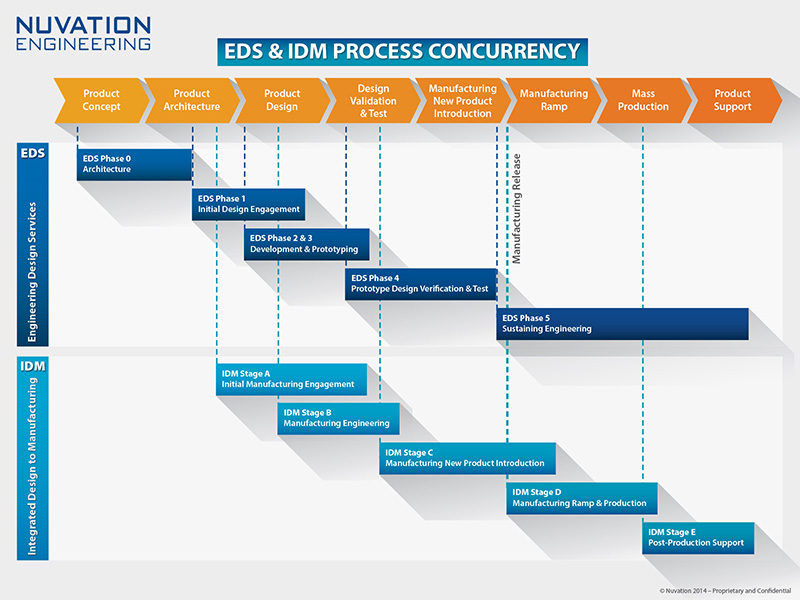 Stage C: Manufacturing New Product Introduction
This stage typically involves one or more validation builds of a mature engineering design, usually at quantities of 2-25 prototypes.  These validation builds are normally used for final back-end design verification, margin testing, regulatory compliance testing, and to support Nuvation Engineering's and our clients' software QA efforts. The final assembly process is then approved and manufacturing data (part masters, hierarchical BOMs, assembly step instructions, tracking systems, etc.) are set up. The critical Release to Manufacturing event occurs at the end of this stage, leading to manufacturing pilot builds and production ramp in Stage D.
Stage D: Manufacturing Ramp & Production
This is where Nuvation Engineering will typically execute a release of all data to the end customer before they enter full production. Nuvation will prepare formal production unit cost quotes at specific committed batch units, annual quantities within a specific production model and schedule requirements. This will give the end customer the option of managing the production of the product in house, or leveraging Nuvation as a supplier. In this stage, manufacturing pilot builds and production ramp would be performed.
Stage E: Post-Production Support
This is the stage at which the product data has been handed over to the Contract Manufacturer (CM). Here Nuvation provides engineering support to the CM and provides them with high-volume manufacturing hand-off support. This support can range from support on fixtures, debugging, Root Cause Analysis & Correction, right through to Materials and Supply Chain Lifecycle Management.
New Product Introduction Deliverables
Stage A: Initial Manufacturing Engagement
Requirements Gathering

Convert customer ideas and needs into a clear set of requirements

Manufacturing Test Strategies

MTP – Manufacturing Test Plan 
MTSD – Manufacturing Test Software Description 
MRTP – Manufacturing Readiness Test Plan

Manufacturing Process Description (MPD)

How the product will be built

Manufacturing Verification Test Plan (MVTP)

The list of tests that need to be passed to consider that the test fixture meets the design requirements

Manufacturing Work Plan (MWP) 

Includes the updated IDM estimate, 3rd party materials, definition of what's in scope and out of scope, the list of deliverables, project costs, project schedule, major project risks, and project applicable specifics
Stage B: Manufacturing Engineering
Detailed Support of Design For (DFx):

DFT: Manufacturing Testability
DFM/DFA: Manufacturability/Assembly
DFR: Reliability & Environmental Robustness
DFC: Compliance Certification

Detailed Component and Supply Chain Engineering
Cost Optimization
Detailed Manufacturing Test Fixture & Software Design
Shipping Packaging Design & Test
Stage C: Manufacturing New Product Introduction
Reliability Validation Build (high maturity prototype)
Formal Manufacturing Readiness Test Plan Execution
Formal Regulatory & Industry Compliance Certification
Detailed Fabrication & Assembly Step Process Definition
Setup and Initialize Manufacturing Data

Part Master & Hierarchical BoMs
Assembly and Inspection Instructions
QC and Tracking Systems

Release to Manufacturing for Production Ramp
Stage D: Manufacturing Ramp & Production
Pre-production Builds:

Manufacturing Pilot Production Build(s)
Limited Quantities Production Ramp Build(s)

Standard Quantities Mass Production Build(s)
Quality Control & Tracking
Stage E: Post Production Support
High-Volume Manufacturing Hand-off Support
Materials and Supply Chain Lifecycle Management
Root Cause Analysis & Correction
Simplifying New Product Introduction
One Source Responsibility
Simplified and cohesive engagement from Concept to Production
Enables client to stay focused on internal core competencies and execution
Manufacturing Expertise in the Design Engineering Process
Focus on lowest designed unit cost (not just BoM cost, not just scale efficiencies)
Engineered up-front to be manufactured with high yields at production volumes
Deep industry partnerships and reliable supply chain
Specific Design Knowledge in the Manufacturing Process
Ensure Production processes match design complexity and quantity goals
Rapid Pilot, Ramp, and Mass Production root cause analysis and correction
Expedited and competent production and supply chain problem mitigation
Concurrent Design and Manufacturing Processes
Minimized overall Time-to-Market and Time-to-Revenue approach
Tightly coupled and accurate team communication reduces cycle churn
Shortened overall critical path by elimination of serial dependencies