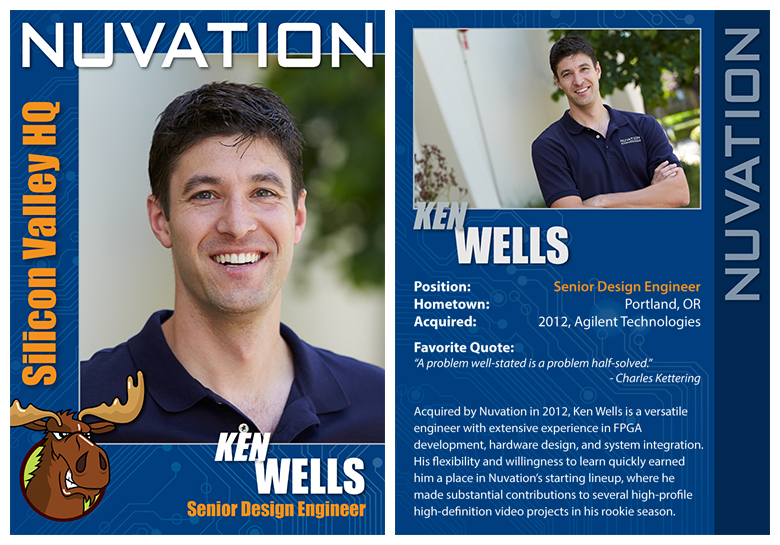 Senior Design Engineer Ken Wells has been with Nuvation for less than a year, but he has already worked on so many things that I had a tough time keeping this interview under 5 pages. Though he's mostly an FPGA development and Verilog coding specialist, he has experience in almost all facets of engineering design, which makes him a great fit. He also has the most adorable wife and two kids on the entire planet, and the whole Wells family has quickly become a fixture on the Nuvation scene.
LF: Okay Ken, tell us, where are you from?
KW: I'm originally from Oregon, just outside of Portland. I came to California to study engineering at Santa Clara University, and ended up staying!
LF: What did you do before you came to Nuvation?
KW: Before Nuvation, I worked for two defense contractors and then Agilent Technologies. At Agilent, I migrated to a division building Nuclear Magnetic Resonance spectrometers. I designed FPGAs and circuit boards for high-powered RF amplifiers for NMR. I also got involved in side projects, like environmental testing and antenna testing in anechoic chambers, just to learn more about how a project comes to life.
My defense work also involved designing FPGAs and radios. I worked with a team that developed systems to counter remotely detonated roadside bombs (IEDs). The work was intellectually stimulating and knowing that the use of more precise countermeasures would save lives of both our troops, as well as any innocent civilians who might have been nearby, gave me a feeling of true responsibility in my job. The most meaningful moment in my working life was a time when some American troops thanked our team of engineers because one of our prototype systems helped them during an ambush. It's still very moving for me.
LF: Wow, that's awesome! Super cool. Okay, what about at Nuvation – what kind of projects have you been working on here?
KW: I haven't been here long, but I've already worked on a ton of cool projects. I can't get into the exact details, but I've been doing FPGA development and Verilog coding for some high-definition video designs, as well as for some fascinating medical applications.
It has also been a goal of mine to learn more about software development, so I've been working on the Kegerator Project in my spare time – mostly during my 80 minute commute on the light rail. It's a great way to combine my love of engineering with my love of beer.
I've learned a lot about Linux, Python, and SQL database theory along the way. Just this morning I got my Python code talking to the MySQL database and building the user_list using tables in a remote server – neato.
LF: Nice one! I can't wait for that prototype to be ready!
KW: Yeah, there are a lot of people lined up to help out with the acceptance testing for that!
LF: I bet. Alright, what do you do for fun?
Well, I have a wife and two kids who are 5 and 3. My wife Diana is in a band and a local women's barbershop chorus called the Bay Area Showcase Chorus, and I love attending her shows. I spend a lot of time playing with my kids who love asking questions and learning and who are becoming quite the little engineers. I've been teaching them electronics with Snap Circuits, and every year we go to Maker Faire. My daughter was actually counting down the days to Maker Faire on the calendar this year – they can't get enough of that stuff. We like to play with the Nintendo Wii too.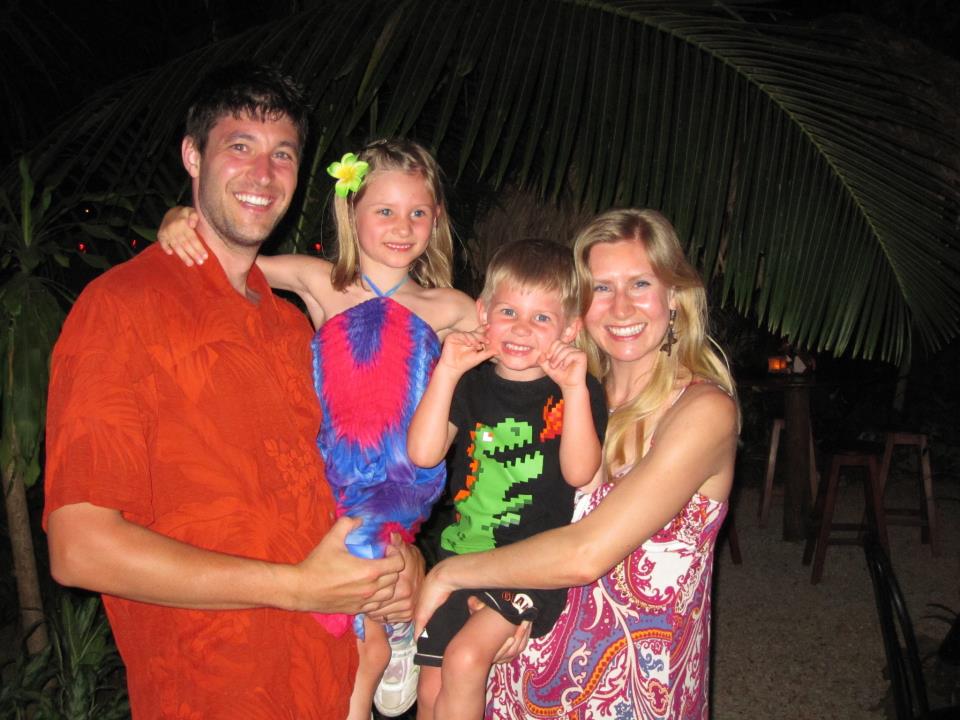 LF: What about your Home Brewing? And you're a beer judge, right?
KW: I hold the rank of Certified Beer Judge in the Beer Judge Certification Program. I took a long class on tasting, styles, and processes involved in beer making, and then took a test, and then judged in enough competitions to progress from "Recognized" to "Certified."
I belong to a homebrewing club called The Grain Trust, and a few years ago I started my own informal homebrew club called Beer and Baby Night. We named it that because I invited brewer-friends over on my wife's night out, when I was home watching our daughter. We initially met for the purpose of studying for our beer judge exam (actually studying, for real), but continued meeting after the test in order to try each other's beer and provide feedback.
LF: Haha, sweet! Anything else?
KW: Um…I've been doing karate for a long time. I practice and teach at Santa Clara a couple times a week.
LF: Really? Do you have a black belt?
KW: Yeah.
LF: Seriously? I never even knew that about you!
KW: Meh.
LF: Yeesh. Man of many talents! Okay, last question. What's your favorite thing about working at Nuvation?
KW: Besides the awesome coffee maker? My coworkers are amazing. I know everyone says that but anyone who has met the Nuvation team knows that we're a little different, in a good way. I also love that I get to work on a wide variety of projects. The pool table is pretty nice too. Nuvation is a special place, there isn't much to not like.
LF: Don't I know it. Thanks Ken!