A Nuvation Engineering client in the medical technology industry required an improved data acquisition system for a flow cytometer device.
The client's original flow cytometer design incorporated a 10-channel, 14-bit, 25 MSPS analog data acquisition system. However, the channel count was limiting the number of parameters that could be detected in a cell or culture sample. Nuvation Engineering expanded the design to a 14-channel system, while keeping the PCBAs the same size and shape, and introduced many other design and manufacturability improvements. The new flow cytometer with Nuvation's improved data acquisition system is now out on the market, and offers higher performance and increased automation over the legacy system.
The client chose to work with Nuvation Engineering due to our deep expertise with complex mixed-signal designs, as well as our experience designing scientific and medical instrumentation.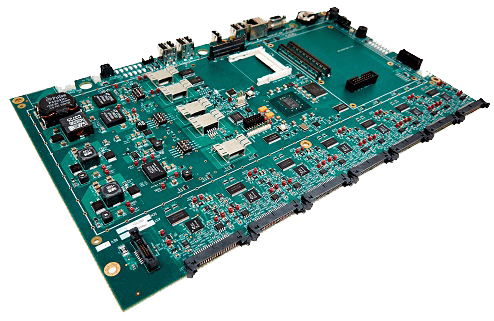 Design Features:
Two boards: 14-channel Analog Front End Board + 14-channel Digitizer Board
14 channels of 14-bit, 25MSPS Analog-to-Digital conversion (synchronized)
Very low noise JFET-based photodiode pre-amplifier
Xilinx Kintex-7 FPGA, with BPI Flash for configuration
CFAST and SLIM SATA solid state storage drives
Numerous high-speed Digital Interfaces including: Gigabit Ethernet, 2xPCIe (2.5Gbps), 7xUSB, SATA (3.0Gbps), CFAST (3.0Gbps), VGA, and LVDS video interfaces
Pre- and Post-layout Signal Integrity Simulations performed
Mezzanine connector for COM Express Single Board Computer (SBC)
Complex power tree with 6 DC/DC converters and 26 linear regulators
Mixed-signal design
Low noise floor
First time right design