Purigen Biosystems contracted Nuvation Engineering to assist in the development of an instrument that separates and concentrates DNA solely by its ionic mobility (i.e. charge). This technique used by the instrument is called Isotachophoresis (ITP).
To support the ITP process that occurs on the instrument, Nuvation Engineering developed a high-voltage board that includes a variable 0-1.5 kV power supply as well as a robust set of safety monitoring and interlock circuits. In addition to the high-voltage board, Nuvation developed four additional custom PCBAs for the instrument. The main PCBA is a densely populated board with an ARM processor, embedded single board computer (SBC), multiple DC/DC supplies and peripheral circuits. The remaining three boards perform specialized sensing, actuation, and data acquisition functions.
Nuvation Engineering worked closely with Purigen and a trusted mechanical design partner on the enclosure, PCB mounting, thermal management, optics alignment, limit switch placement, AC power supply selection, cable design and routing, Design for Manufacturability (DfM), and Design for Testability (DfT) considerations.
Nuvation Engineering also developed all the embedded firmware for two ARM processors in the instrument, the C++ user interface, board support package, and Python scripts running on the single-board computer (SBC) master.
Nuvation also worked closely with Purigen to develop a clean and intuitive graphical user interface (GUI) for the color LCD capacitive touchscreen of the instrument.
After the instrument design was completed, Purigen entrusted Nuvation with engineering supervision of UL, EMC and ESD regulatory compliance testing, as well as hardware and software testing to ensure the product met functional and safety requirements.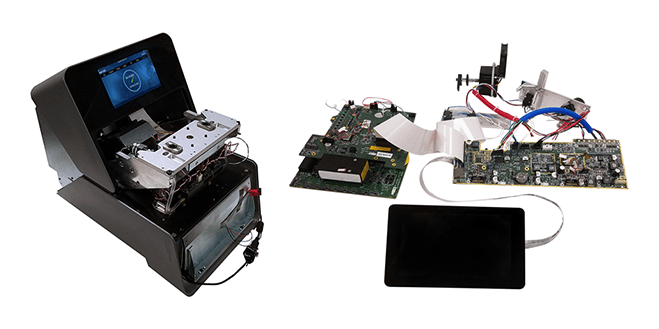 Design Features:
Meeting target costs required the use of inexpensive silicon components, which tend to have high leakage currents. Nuvation implemented an engineering design that enabled the use of low-cost silicon without a high leakage currents outcome.
Voltages turn on and off quickly to support the concentration technique
Close compatibility with existing software simplified system integration
Included safety requirements such as software and mechanical lockouts
Single board computer
LCD touch screen interface
Nuvation conducted, and our design passed, the following tests:

UL 61010
FCC Part 15 Class A
EN 61000-4-4 Fast Transient Immunity
EN 61000-4-6 Conducted Immunity
EN 61000-4-2 ESD