A startup company in the medical device design industry chose Nuvation Engineering to help them design a unique portable medical device for migraine headache relief. The company asked us to create a handheld, battery-operated and user-friendly product that would allow users treat themselves. The device also had to comply with various medical safety standards, including IEC 60601-1.
The device employs a method called "Transcranial Magnetic Stimulation," or TMS. With TMS, a very intense but brief magnetic field pulse is created by discharging a large electrical current (thousands of amps) through specially designed treatment coil. The energy for the pulse is first stored in several large, high-voltage capacitors, before being discharged into the coil. The magnetic field intensity is similar to that experienced in an MRI machine, but for a very short duration. When directed at the back of the head, this magnetic field can interrupt the biochemical sequence of events that leads to a migraine headache, causing (in some cases) the headache to be entirely avoided.
The design includes an LCD touchscreen with graphical user interface and multi-level menu system. It also recommends and monitors medication doses and times, tracks patient feedback, and stores patient history records.
The client chose Nuvation Engineering because of our experience with complex PCB designs, high voltage, embedded firmware, battery operated systems, and our ability to bring all these technologies together. A particularly interesting challenge with this design was its susceptibility to self-interference from its own magnetic pulse! Numerous techniques (in both hardware and firmware) were implemented to minimize the effects of self-interference. This design also required following medical safety design guidelines from the IEC 60601-1 standard.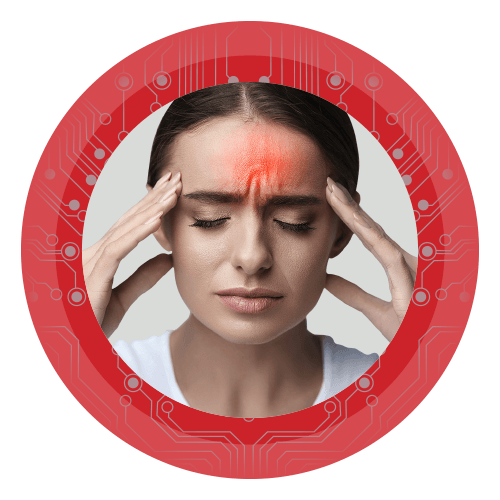 Design features:
Battery operated portable electronic treatment medical device
High-voltage capacitor charging circuitry to > 500 volts
Discharge circuitry for current pulse of several thousand amps
Multiple levels of safety considerations and redundant sensing systems
Conformance to IEC 60601-1 medical safety guidelines
USB and smart card interfaces
LCD touchscreen with graphical user interface
Multi-level menu system for storing patient history, treatment diary, and event log