At the 2013 Battery Show in Detroit we decided something was required to set the Nuvation booth apart. We needed something entertaining. Something Interactive. Something that reflected our fun and geeky company culture. And with that, Angry Moose was born!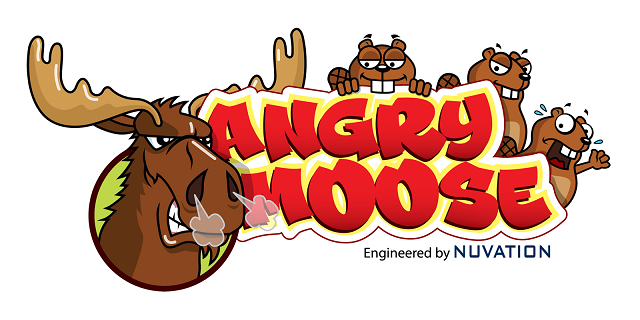 Angry Moose is a fun Canadian twist on the popular Angry Birds game – instead of angry birds and green pigs there are angry moose and beavers. Players use an ipad to adjust the pitch, yaw, and band stretch of a slingshot, and catapult a stuffed toy moose at a beer can 'dam'. The beavers stole the moose's beer and they want it back!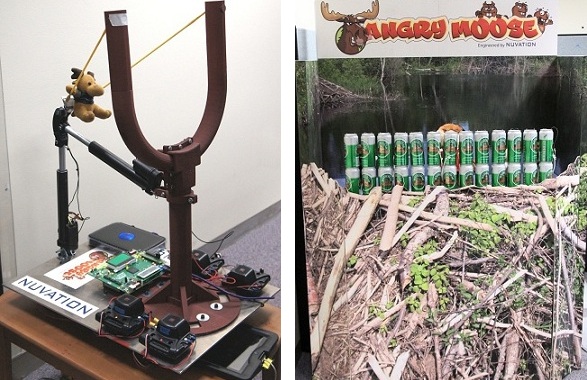 The Angry Moose Slingshot and Controller, and the Beaver Dam
Points are won by knocking over the "enemy" stuffed beavers behind the dam. The rabbits have been taken hostage by the evil beavers, and points are lost if they're taken out. No collateral damage allowed!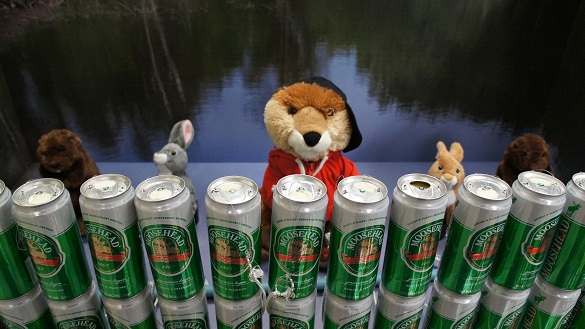 Our dedicated development team ensured that not a drop of beer from the display cans went to waste.
The design uses an off-the-shelf iPad and wireless router. The controller is made from an Altera Cyclone III development board and three Texas Instruments Jaguar motor controllers are integrated with the slingshot to adjust the pitch, yaw and band stretch of the slingshot. A fourth TI motor controller actuates an electromagnet which, along with a metal plate, acts as a release mechanism. The slingshot itself was created with a 3D Printer, using ABS+ material, thanks to our friends at 3D Designs Plus.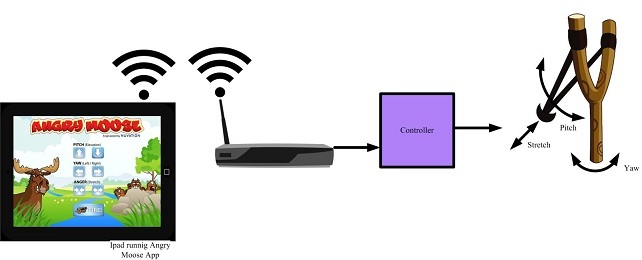 Angry Moose System Overview
Angry Moose has proven to be a crowd pleaser far beyond our wildest expectations. It is currently being upgraded to a Cyclone V platform, and will be appearing next at the NAB Show in Las Vegas, April 8-11. Check Nuvation's twitter feed for details in the upcoming weeks for your chance to join in the fun!
Angry Moose in Action