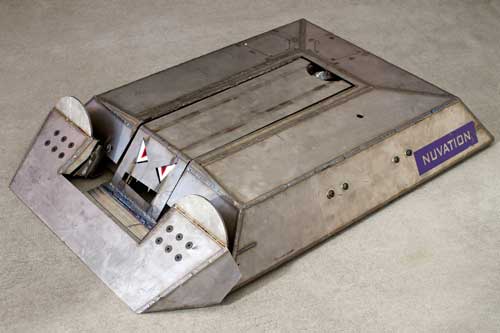 Nuvation engineers meet short deadline, build brand new combat robot from scratch in less than one month for RoboGames 2011…
Nuvation Engineering Delivers a First-Punch TKO at RoboGames With New Robotic Platform
San Jose, California (May 10, 2011) – Nuvation Engineering, a leading provider of electronic design services, recently showcased a new robotic platform at the 2011 RoboGames held at the San Mateo Fairgrounds from April 14-17, 2011. The Nuvation-sponsored team, CM Robotics, which consists primarily of Nuvation employees, developed a new 220-lb. heavyweight combat robot in less than one month.  Coming in seventh place out of 28 combat robots, the new robot featured a smaller and lighter Titanium and Magnesium platform than previous versions, using a more advanced electro-mechanical design with a 2.4GHz wireless link and a 4 x 2.3Ahr 26.4V LiFe A123 rechargeable power system.
Named "Son of Ziggy" (SoZ), the new combat robot is the so-called "off-spring" of the infamous combat robot "Ziggy," which has been CM Robotics' Super-Heavyweight Champion pneumatic flipper robot platform for the past seven years competing in the 340-lb. weight class. This year, the teams' goals were to design and build a completely new robot based on the previous Ziggy platform, shedding 120 lbs. of the weight while keeping the same offensive and defensive potency.
"The engineering difficulty level was significantly increased this year, as I challenged our engineers to build this bot from scratch in a matter of weeks, instead of the usual 6-12 month lead-time," said Michael Worry, team leader, project manager, and CEO of Nuvation Engineering. "We continue to participate in RoboGames because it presents design challenges that sharpen our skills in a wide array of innovative robotic and robust electronic technologies.   It's also an amazing weekend of engineering fun where we can demonstrate that engineering is a team sport and that we specialize in the ridiculous, including successfully delivering a complex project on an incredibly aggressive deadline."
For more information, contact Nuvation Engineering at 3590 North First Street Suite 210, San Jose, California, USA 95134; by phone 408.228.5580; or on the web at www.nuvation.com
About Nuvation
Nuvation provides accelerated Electronic Product Design and Manufacturing services. Nuvation's advanced methodology is designed to get it right – the first time. With over 600 projects delivered since 1997, Nuvation's North American design and manufacturing teams cover advanced product solutions for customers ranging from new venture companies to the Fortune 500. From initial electronics architecture to new product manufacturing, Nuvation develops all the boards, programmable logic, firmware and software to make those products run. Nuvation creates complex products integrating FPGAs, DSPs, analog/power, RF, microprocessors, and other cutting-edge technologies for customers worldwide. Nuvation serves the video, wireless, medical, defense, robotics, and high-performance computing industries.