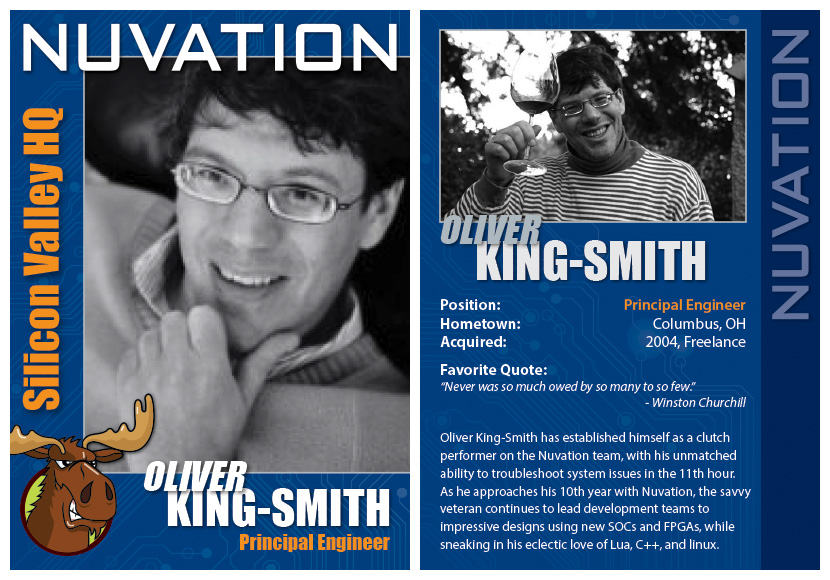 After nearly 10 years with Nuvation, the list of things Oliver King-Smith is known for is pretty long: homemade wine, crazy colorful socks, his PhD in mathematics, a fondness for fine dining, having his computer monitor set to 10x zoom so he can actually see it… But what he lacks in visual acuity he makes up for in charm, and Oliver is always happy to sit down with a mug of tea and fill you in on the latest developments with his wine fermentation, his wife and daughter, and the latest open source tool he just found.
LF: Hi, Oliver!
OK-S: Hi!
LF: So, you've been with Nuvation for as long as I can remember. How did you find us?
OK-S: Well, back in 2004, I was doing some consulting work for Leapfrog, a client of Nuvation's. Mike Hermann and I spent a weekend in the lab debugging a tricky software glitch disguised as a software problem. I guess things went pretty well because we fixed the bug, and he asked me to come to do a 4-week contract at Nuvation. And now it's 9 years later and I'm still here!
LF: Wow, you really milked that contract!
OK-S: I guess so!
LF: What do you do at Nuvation now?
A lot of system design work, usually trying to figure out what the right approach to solving a hardware or software problem is. I'm the technical lead for a lot of software projects. I've developed a bit of a reputation for building Linux into everything. <laughs>
LF: What's the coolest project you've worked on at Nuvation?
OK-S: Coolest? That's a difficult question. We do a lot of pretty neat stuff here. There was an optical fiber channel monitor a few years ago. It had a huge torrent of data coming in; 8 links at 17Gb/link/s. We had to figure out a system to flexibly extract the interesting information from the enormous data stream, and move it out over a single 40Gb/s link back to a PC. It was all on an FPGA front end, and it was cool because that much data took multiple banks of DDR just to store. We were really pushing the edge of technology and what was possible.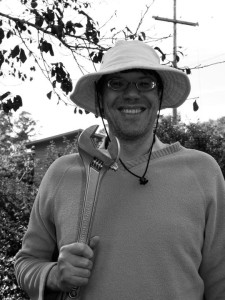 It's not just software tools he knows how to use.
LF: What do you do for fun?
OK-S: Well, winemaking as you know. I've been doing that since I was old enough to drink. I'm also something of a serial entrepreneur. In the past I started my own embedded software company that had a way to collect data from sensors using a palm pilot, and sync it with Excel. It was one of the early forays into embedded hardware. And now I run Elemental Semiconductor, where I'm working with chemists to develop a new sensor based on ChemFETs, which is a chemical sensor based on silicon. It started as a hobby to sense chemicals for wine making, but it has grown much larger. My vision is to allow you to sense chemicals anywhere, and empower you to act on the information.
LF: Wow, sounds like you have a lot going on!
OK-S: Yes, I do. But, my daughter's going off to college in a few weeks, so I need something to keep me busy!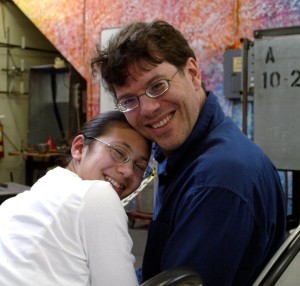 Oliver and his daughter Emma
LF: What's your favorite thing about working at Nuvation?
OK-S: Well…I know everybody says 'the people', but that is a big part of it. Nuvation is for the most part a non-political place, where people tend to collaborate, and form teams, and discuss problems. Everyone has a fair amount of individual responsibility, and a lot of personal autonomy, which I like. And there are a lot of really interesting projects. I'd say my job is far more interesting than the average engineer.
LF: Last question. When's the next wine bottling party?
OK-S: My chardonnay is in barrels right now, and it should be ready in a few weeks. Is my star corker ready?
LF: ALWAYS. Thanks for the interview, Oliver!