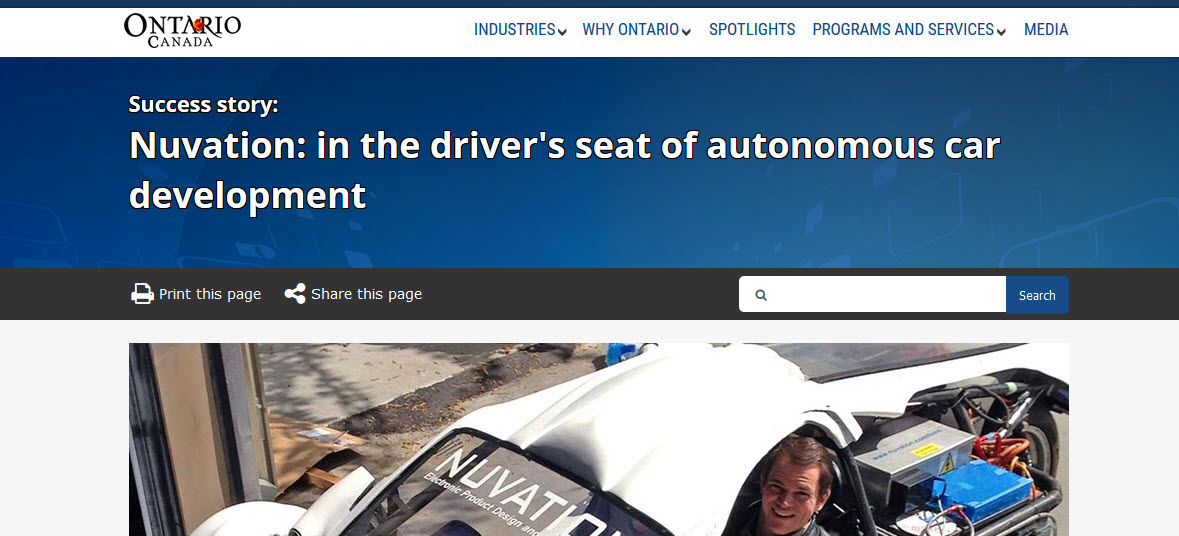 The Ontario government recently featured Nuvation on their website as an Ontario success story. Nuvation CEO Michael Worry met some folks in Silicon Valley from the Ministry of Economic Development and Growth, and they were surprised to hear that back home in Waterloo there was a company that was doing research with the University of Waterloo in autonomous vehicle technology, and putting that technology into a Peterbilt truck! While we have all heard about the success of Tesla and Google and more recently Uber, less known is that up North the University of Waterloo has been collaborating with Nuvation on questions Canadian drivers ask far more often than our California counterparts, such as:
How does an autonomous vehicle interpret its surroundings during a blizzard?
How does an autonomous vehicle stay between the lines of the road when those lines are covered in ice and snow?
When the car starts to slip on ice during a turn, how can an autonomous system recover before the car ends up in the ditch or embedded in the guard rail?
If you think about it, just how many autonomous vehicle demonstrations have you see on YouTube in harsh winter conditions? There are some, but if you look closely it becomes clear very quickly that winter driving challenges have not been conquered by autonomous driving technologies  as much as other interesting challenges like unpredictable pedestrians jumping in front of your car, which have been pretty much solved for the most part. Oh, our lawyers told us to put in this Darwin Award comment to avoid litigation: "in no way does Nuvation condone or promote humans jumping in front of moving cars, autonomous or otherwise. This is always very dangerous, even when the car is smarter than you are." And when the government of Ontario learned that Nuvation had autonomized a Peterbilt tractor to centimeter accuracy, they told us they wanted to tell people about it! Check it out!